Canvas modules provide students with a mental model and roadmap for your course.
Modules can help make the weekly rhythm of the schedule legible and transparent to students and keep them in context at each step of the way.
When all course content exists within Modules, this structure allows the instructor to provide a conceptual and chronological framework that reinforces the big ideas and basic organization of the course every time a student navigates through them.
Designing your course modules involved four main elements:
Modules provide the top-level units of organization for the course (either by topic or week).
Module Items create meaningful groupings within modules using pages, assignments, etc.).
Module Order/ Dates provide an overview of the course schedule.
Module/Item Titles reinforce the topics and recurring activities of the course if they are written using clear and consistent language.
We recommend that you adopt one of the following module structures for your course, and we encourage all instructors who teach the same course to use a similar module structure.
Example 1: Module = a Topic/Unit
In this structure, a Module represents a major topic that stretches across several weeks. In this case, the module functions as a Unit that represents a major topic for the course.
To make it easy for your students to navigate, you can organize each module according to weeks, making use of subheadings and all learning resource pages (e.g., pages with links to readings), quizzes, discussions, and assignments exist within their respective module and week.
Here is an example of this module structure where the title of teach module item includes the type (Activity, Assignments, Class, etc.) as well as the topic: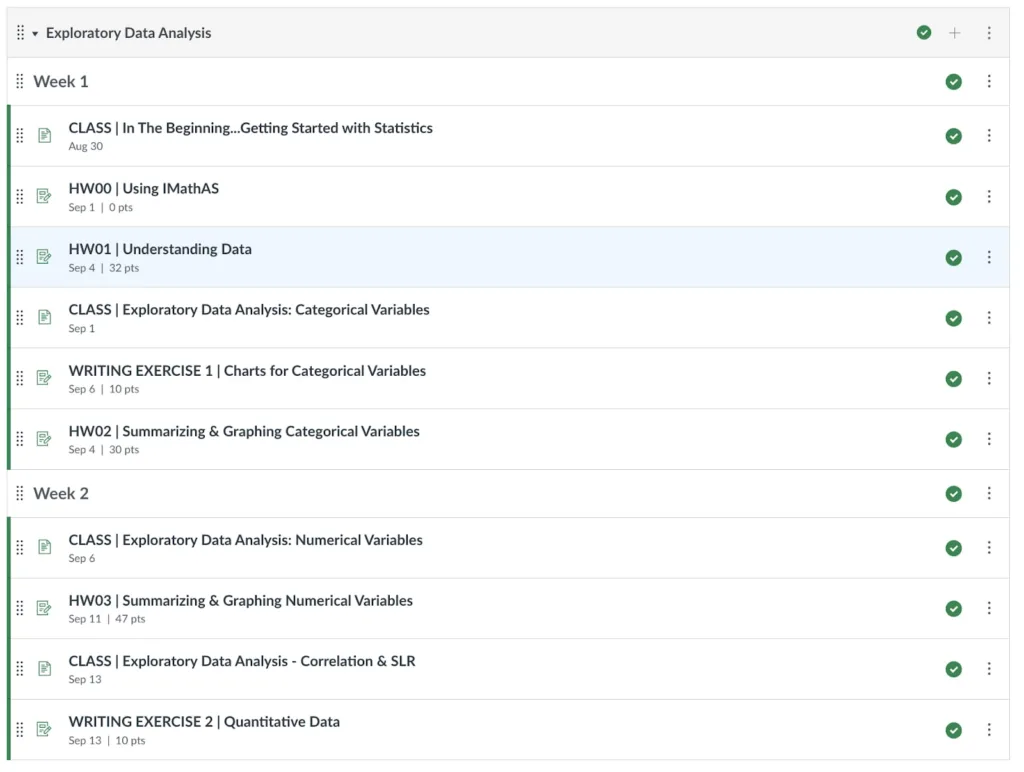 ---
Example 2: Module = A Week
In this organizing structure, each Module corresponds to a week of the course. A single page contains all the learning resources for each class. All assignments and activities exist within the Module, appearing chronologically.
If your weeks do not have a clear topic, you can omit that and let the class titles indicate topics to be covered in a particular week.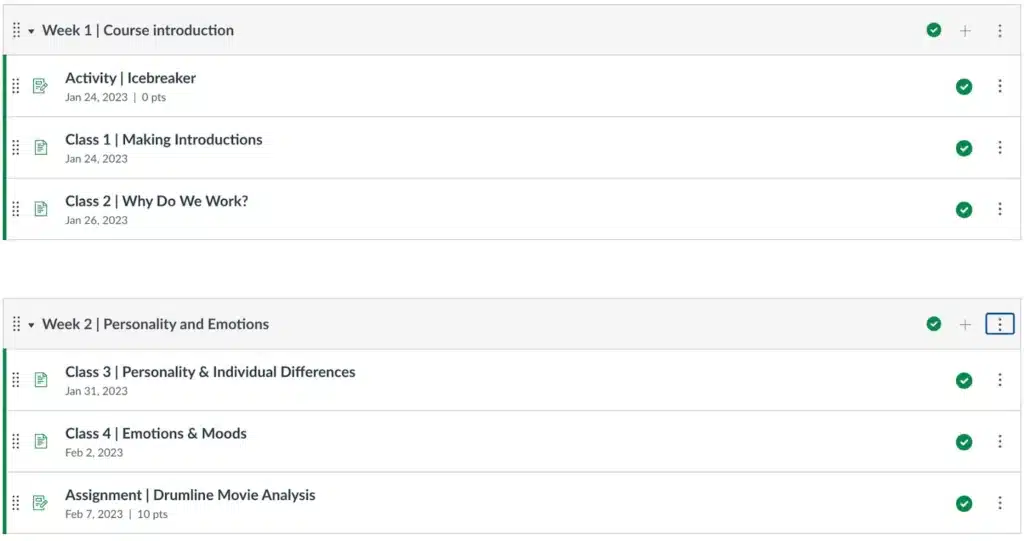 Tips for Designing Modules
1. Where possible, develop a consistent rhythm for each week/module
Assignment types: If you have recurring types of activities, you can include the assignment type in the title. For example, "Reading Response: [topic for the assignment]." This can also help remind students of the major assignment categories in your course.
Multi-Step Assignments: If you have a project that spans several weeks, you can use a naming convention like "Final Project: Topic Proposal" and "Final Project: First Draft Due" to indicate how these assignments are connected.
2. Limit the number of items in the module
The fewer items (pages, assignments, files, etc) in a module, the easier it will be for students to make sense of it at a glance. More than 8 or so items starts to feel like a laundry list, and it tends to be less effective in helping students develop a mental model for this portion of your course.
One strategy is to use pages to organize readings and other content rather than directly to the modules as individual files. This reduces the number of items in the module while also allowing you to add more context and commentary along side the content.
See Curating Content with Pages for information on how to use page in modules.
3. Avoid adding dates manually to titles or content
Where possible, we recommend using the Canvas dates in assignments and pages because it makes it easier to update in future terms. If you include dates in titles or in the content, you'll have to update them manually each time. If the dates are in Canvas tools, it's easier to update these dates all at once using the in bulk update tool.
More resources for building modules